Upper Left Closet Organizing Shelf System
OK, we have just completed the ClosetMaid wire shelving system in the top left storage closet of the Lance 1685. It's beautiful! We used 16" (depth) Shelving with brackets from wall to wall purchased at Lowe's (They cut the wire shelving to our measurements!). I didn't have a bolt cutter to do it myself. Here are the supplies I used and the quantities needed:
(Amazon.com)40" ClosetMaid ShelfTrack Mounting Bar. $9.99(Qty Needed:1) I cut this down to size with a hacksaw.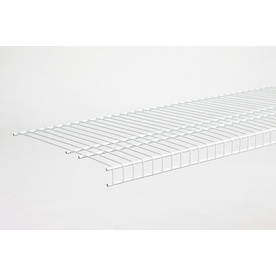 (Lowe's) ClosetMaid 6'x 16" wire shelving.(Qty Needed:2) You will need 4 shelves each cut at 21 1/2". The 16" depth shelving leaves almost 2 1/2" of room between the front of the shelf and the closet door.
(Lowe's) ClosetMaid 30" ShelfTrack. $5.23 (Qty Needed:2) These hang from the ShelfTrack Hang Mount; use two screws in each to mount to back wall.
(Amazon.com) ClosetMaid 16" ShelfTrack Locking Shelf Bracket.$5.51(Qty Needed:8) This was the single most expensive part of the whole thing, however I was HAPPY to spend the money on these brackets rather than the alternative of screwing in little tedious hanging things into the back wall up and down for each shelf, plus little support brackets on the side! The adjustable locking brackets were a no-brainer.
ClosetMaid Large and Small End Caps 84-Pack $3.29 (Qty Needed: 1)
#10 x 1/2" Screws $5
Total Cost for supplies: $95
Tools Needed:
Hacksaw, Power and/or manual Screwdriver, smallish level
In the above links, the links will take you to Amazon.com or Lowe's depending on where I found the item cheaper at the time of writing this article.
Also, we purchased cedar liners for wire shelves to help absorb moisture and hoped it would prevent clothes from sliding when we take it on the move. It improves sliding a bit, but we are thinking to put rubber non-slip lining on top of the cedar planks.
Click here for Cedar Planks.